You are here
Back to top
Ship Captain's Daughter: Growing Up on the Great Lakes (Paperback)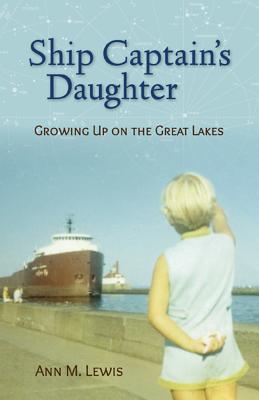 $14.95
Email or call for price.
Description
---
Ann Lewis's childhood was marked by an unusual rhythm. Each year the thawing and freezing of the Great Lakes signaled the beginning and end of the shipping season, months of waiting that were punctuated by brief trips to various ports to meet her father, the captain.
With lively storytelling and vivid details, Lewis captures the unusual life of shipping families whose days and weeks revolved around the shipping industry on the Great Lakes. She paints an intriguing and affectionate portrait of her father, a talented pianist whose summer job aboard an ore freighter led him to a life on the water. Working his way up from deckhand to ship captain, Willis Michler became the master of thirteen ships over a span of twenty-eight years. From the age of twelve, Ann accompanied the captain to the ports of Milwaukee, Chicago, Toledo, and Cleveland on the lower Great Lakes. She describes sailing through stormy weather and starry nights, visiting the engine room, dining at the captain's table, and wheeling the block-long ship with her father in the pilot house. Through her mother's stories and remarks, Lewis also reveals insights into the trials and rewards of being a ship captain's wife. The book is enhanced by the author's vintage snapshots, depicting this bygone lifestyle.
About the Author
---
Ann Michler Lewis grew up in Duluth, Minnesota, where she lived from 1944 to 1967. She graduated from the University of Minnesota, Duluth, and then taught English at Duluth East High School, her alma mater. Since 1972, she has lived with her family in Saint Paul, Minnesota, making periodic pilgrimages back "home" to Lake Superior. She has privately published a book of poems and sailing stories called My Duluth, now out of print.
Praise For…
---
Anyone who has stood near Duluth's Aerial Lift Bridge and watched a freighter pass likely has wondered about the life of a crewman, much less a captain. We always bend toward the romantic. But there are also stories in the lives of those sailors' families. One such story is told in admirably unromantic fashion by Ann M. Lewis, whose father, Willis Carl Michler, worked the ships for 47 years, starting at 16 and rising to the rank of captain of 13 ships. … Ship Captain's Daughter is less a memoir than a recollection — the story of a rare life, told with an eye for telling detail, with a level-headed lack of drama (her father's trait?) and a quiet appreciation of what her mother faced each March when the shipping order arrived and they were back on "sailing time." (Sloane Crosley,Minneapolis Star Tribune Review, Feb. 9, 2016)
 
 A nostalgic and deftly crafted personal memoir, "Ship Captain's Daughter: Growing Up on the Great Lakes" is a compelling and thoroughly enjoyable read from beginning to end. Very highly recommended for both community and academic library American Biography collections, it should be noted for personal reading lists that "Ship Captain's Daughter" is also available in a Kindle edition ($8.99).  (Mary Cowper, Cowper's Bookshelf, Bookwatch, Midwest Bo0ok Review, March 2016)