You are here
Back to top
The Lemoncholy Life of Annie Aster (Paperback)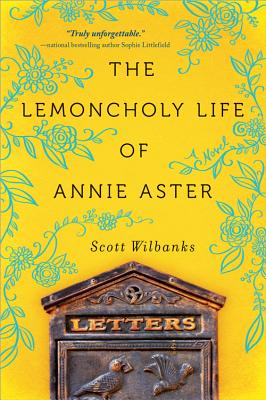 $14.99
Email or call for price.
Description
---
Annabelle Aster doesn't bow to convention—not even that of space and time—which makes the 1890s Kansas wheat field that has appeared in her modern-day San Francisco garden easy to accept. Even more peculiar is Elsbeth, the truculent schoolmarm who sends Annie letters through the mysterious brass mailbox perched on the picket fence that now divides their two worlds.
Annie and Elsbeth's search for an explanation to the hiccup in the universe linking their homes leads to an unsettling discovery—and potential disaster for both of them. Together they must solve the mystery of what connects them before one of them is convicted of a murder that has yet to happen…and yet somehow already did.
About the Author
---
Scott Wilbanks graduated summa cum laude from The University of Oklahoma and went on to garner several national titles in the sport of gymnastics. Scott's husband, Mike, is a New Zealander by birth, and the two split their time between the two countries while Scott is at work on his next standalone novel.
Praise For…
---
"No book can be all things to all readers—but The Lemoncholy Life of Annie Aster succeeds resoundingly in being many delightful things that one does not ordinarily find tucked into the same cover: mystery, time travel, history, and gentle social commentary. Slyly mysterious, cleverly imaginative, wistfully romantic, and truly unforgettable." — national bestselling author Sophie Littlefield
"Readers will adore this heartfelt, one-of-a-kind debut and the charming, quirky characters tramping through its pages. Written in sly, quick-witted prose and filled with soul, The Lemoncholy Life of Annie Aster will have you thinking, smiling, and wondering if you can find your own magic door." — Michelle Gable, international bestselling author of A Paris Apartment
"An endearing, magical romp, this tale of a charming cadre of misfits, has everything. A charismatic leading lady, her lovably awkward sidekick, a truly evil villain, a Victorian schoolmarm, a wise waif, one amazing door, and a great deal of deft wit. The Lemoncholy Life of Annie Aster is a pitch perfect exploration of love, friendship, and the ageless desire we all have to belong, regardless of when and where we are. The deliciously droll narration is a delight for any century, any time." — Rhonda Riley, author of The Enchanted Life of Adam Hope
"Skillful and loving creation of a cast of fascinating characters...quirky charms are undeniable." —
Library Journal
"To even try to truncate the action of The
Lemoncholy Life of Annie Aster
into a succinct, sound byte-ish few sentences would be incredibly foolish, were it even possible (spoilers or no spoilers). Let me just say that author Scott Wilbanks lets no moss grow under the feet of the characters in this, his debut novel – how could he, with two time periods to contend with, multiple mysteries (not all of which are contingent on the space/time bubble thingy), and – oh yes – murder? " —
Lit Stack
"The
Lemoncholy Life of Annie Aster
is a fun little time-bending mystery. Wilbanks's whimsically romantic writing style is perfect for this story of a woman out of time. " —
Reading Lark
"It is a truth universally acknowledged that you can't mix a romance book, a time travel story, a Jane Austen pastiche, an epistolary novel and family drama. Or is it? Well, it seems that the Universe will have to check which truths it acknowledges because all that (and more) is what Scott Wilbanks has done in the very entertaining The
Lemoncholy Life of Annie Aster
. " —
Sense of Wonder
"Time travel. Murder. Mayhem. Magic. The
Lemoncholy Life of Annie Aster
is full of twist and turns you should but won't see coming." —
The Lovely Books
"The
Lemoncholy Life of Annie Aster
is definitely a book for you if you enjoy time travel, mystery, and a damn good story. Scott Wilbanks has written an incredibly engaging first novel and I'm very much looking forward to what he writes next." —
Books Etc.
"A fun take on time travel with a feisty heroine and some excellent supporting characters. " —
Magic Realism
"Some authors just have a truly remarkable gift; they can make you fall in love with a story, its characters, and its magical tale just by describing something as small as a letter, wheat field, or Victorian wardrobe. Scott Wilbanks, you have that talent. " —
Charming Chelsey's
"The Lemonscholy Life of Annie Aster is a delightful, feel-good, heart-warming tale. Thoroughly entertaining, and enchanting, it is the perfect Summer read." —
SJ2B House of Books
"Mr. Wilbanks has a sure touch when it comes to characterization...whimsical, funny, entertaining way of telling a story. " —
Buried Under Books
"This book is perfect for those who are looking for a book that's fully engaging and will stick with you for very long time!" —
A Bookish Affair
"It has such a unique storyline and because of that I ended up loving this story. " —
The World As I See It
"Beautifully written novel with wonderful characters and a fascinating plot. Delightfully entertaining. Leaves you feeling good and wanting more magic from this author. " —
Deco My Heart
"There's something of everything in there and plenty of mystery to boot. Most importantly, it was a great read and will leave me remembering the characters for some time to come." —
Lora Reviews
"The plot was so interesting and it kept me guessing as to what would happen next. I also liked the characters and the mysteries they brought to the story as well." —
To Read or Not To Read
"The Lemoncholy LIfe of Annie Aster is one of, if not the best, Grandfather Paradox novel I've read in a long time. The story is achingly beautiful and very, very entertaining, it sure made me crave for a similar novel to read." —
Talk Supe Blog
"The
Lemoncholy Life of Annie Aster
is a good summer read. It is a book that will keep you guessing what will happen next until the end. It is a good choice for book clubs. " —
Bloggeretterized
"Imagine a bit of Miss Peregrine's, House at the End of Hope Street, Time and Again, and Time Traveler's Wife all stirred up in a pot and Scott Wilbank's first novel is just that tasty. Lemoncholy Life begins in the middle, but I'm guessing with time travel that's just a formality. A letter. A murder. Enough said." —
This Is My Symphony
"This book was fun. The fantasy element was interesting, the mystery satisfying, and the characters! Oh, the characters. A goofy cast of misfits that somehow cobble themselves into a family." —
Confessions of a Book Habitue
"This is the type of book that is a rare gem. Not only is their mystery and intrigue, but it is super funny." —
Cristi's Reviews
"The
Lemoncholy Life of Annie Aster
is a great blend of wonderful characters and an equally wonderful plot. If you enjoy time travel and murder mysteries, then this one is for you. " —
Girls Just Reading
"The characters were so endearing to me. They are quirky, flawed, and carrying their baggage in their own way. Like a slowly opening flower, their story and depth of character come out petal by petal. I could tell early on that their stories would come to be interconnected in special ways." —
Aimee's Book Reviews for Eclectic Readers
"Wilbanks has given his readers all the elements necessary to keep them turning the pages – suspense, magic, a little time travel, some secrets, a budding romance and a villian...with the exception of the definitely dastardly villain there was not one character in this book I didn't fall in love with as I read. " —
Constantly Moving the Bookmark
"Half epistolary crime drama and half love song to Victorian-era America, The Lemoncholy Life of Annabelle Aster is a sweet, fun romp that never takes itself too seriously, but consistently entertains." —
Lambda Literary
"Scott Wilbanks has written a unique, one of a kind story that captured my heart...The author writes in an easy to read format, while describing breath-taking vibrancy. A brilliant, creative little book that will ultimately entertain! Highly recommended." —
Historical Novel Review
"This is one book where, if you were to stop after the first twenty pages, you'd have cheated yourself of something special. " —
American Microreviews & Interviews