You are here
Back to top
Girl Gone Missing (A Cash Blackbear Mystery #2) (Paperback)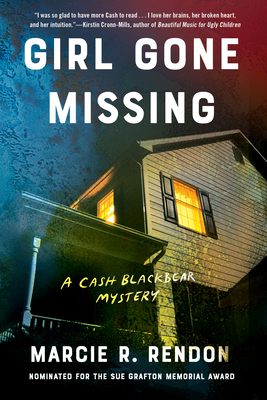 Description
---
Marcie R. Rendon's follow-up to Murder on the Red River finds Cash helping Sheriff Wheaton solve a murder that has likeness to the cases of missing and murdered Native women.


Cash is off to a local college with the help of Wheaton, who wants her to take hold of her life and aspire to better things. At Moorhead State she sees that people talk a lot but mostly about nothing, not like the men in the fields she's known all her life, who hold the rich topsoil in their hands, talk fertilizer and weather and prices on the Grain Exchange.

In between classes and hauling beets, drinking beer and shooting pool, she begins to dream of the Cities and blonde Scandinavian girls calling for help.

About the Author
---
Marcie Rendon is an enrolled member of the White Earth Nation, a Pinckley Prize–winning author, playwright, poet, freelance writer, and a community arts activist. Rendon was awarded the McKnight Distinguished Artist Award for 2020. She is a speaker on Native issues, leadership, and writing. Her second Cash Blackbear mystery, Girl Gone Missing, was nominated for the Sue Grafton Memorial Award. Rendon was recognized as a 50 over 50 Change-maker by AARP Minnesota and Pollen in 2018. She lives in Minneapolis.
Praise For…
---
Praise for Girl Gone Missing

"Rendon is a natural storyteller and a consummate writer . . . There isn't a protagonist in recent fiction with the bearing of Rendon's creation, and we're the better for knowing her."
―Grand Rapids Herald-Review

"The vivid writing and keen eye keep the pages turning and readers hoping for another book in this series."
―Buzzfeed
 
"Darn that Marcie Rendon but she did it again. She wrote another book featuring Renee 'Cash' Blackbear which invariably led to nonstop, compulsive reading and thoughts about the 19-year-old protagonist . . . This is a good book. If you read it, block out uninterrupted time. It's hard to put down."
―The Circle News: Native American News and Arts
 
"I was so glad to have more Cash to read . . . I love her brains, her broken heart, and her intuition."
―Kirstin Cronn-Mills, author of Beautiful Music for Ugly Children

"Against the landscape of a 1970s college town, the disappearance of a classmate draws Cash into a web of dreams, deceit and danger. Heart-stopping, heartrending and heartening, often all at the same time."
―Linda LeGarde Grover, author of The Road Back to Sweetgrass
 
"Cash Blackbear is a complex, courageous character, full of her own integrity."
―Linda Rodriguez, author of the Skeet Bannion Mysteries
 
"Murder on the Red River and Girl Gone Missing are excellent novels, so compulsively readable that they are difficult to put down . . . presenting compelling and engaging narratives that also touch on issues that face Indigenous peoples and communities."
―Transmotion

"[A] refreshing sequel . . . Rendon, herself a member of the White Earth Anishinabe Nation, highlights the plight of Native Americans who were forcibly adopted by whites and Cash's discomfort in a land that is and is not hers. Readers will look forward to Cash's next outing."
―Publishers Weekly